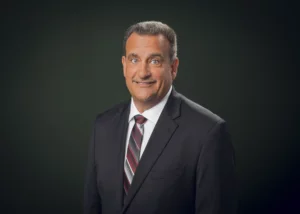 The two things you will quickly see as the most important in David's life upon meeting him are his family and the financial service he provides to help others. In fact, the two have converged to create an experienced, client-driven family company. David has the privilege now of working with two of his children and his daughter-in-law, who serve in key roles at Capital A Wealth Management.
David first learned about financial planning fresh out of college in 1983, when he graduated from Indiana University of Pennsylvania with a bachelor's degree in business administration. While working for other companies and gaining experience, David saw a tremendous need for advisors since most other advisors were only talking about investments and not income. In 1990, David became an independent advisor and founded his own company. Today he oversees operations and staff as president of Capital A Wealth Management. He also uses his 35 years of experience to work with clients in their retirement planning. Over his three decades of financial service, David has seen — and worked to address — the ups and downs of the economy.
"When the markets are good, it is easy to make money in the markets," says David. "However, when the market is dropping or going sideways, the most important thing is to have a plan in place and stick to the plan. It will help you from making terrible decisions."
David is a member of the Million Dollar Round Table, an international organization that recognizes members for their exceptional professional knowledge, strict ethical conduct and outstanding client service.
David is married to his wife of 35 years, Rosa, and they have three children. He works with his sons David Jr. and Brandon, along with his daughter-in-law Jaclene Domenick. His daughter Angelina is studying dental medicine at the University of Pittsburgh. David lives in New Castle, and when he's away from the office, he likes to spend his spare time golfing, going on vacations with his family and working out. Dinner with friends is also a favorite of David's! He most recently has been enjoying spending his free time with his first grandchild, Cecilia!
Million Dollar Round Table ("MDRT") is a membership organization. Qualifying criteria for membership include attaining specified levels of commissions earned, premium paid or income earned on the sale of insurance and other financial products. The MDRT membership requires the payment of annual dues, compliance with ethical standards, and to be in good standing with an MDRT-approved Professional Association. There are 3 levels of membership which include standard membership, Court of the Table and Top of the Table. The MDRT logo and/or trademarks are property of their respective owners and no endorsement of David Domenick or Capital A Wealth Management is stated or implied.