About Our Seminars
At Capital A Wealth Management, we hold informational seminars for our clients and the greater community that feature information on specific topics, such as retirement income strategies and wealth management. Often, our seminars include guest speakers and special activities, as well as take-home materials. We strive to keep you up to date on issues that matter to you, your family and your financial well-being. Whenever you attend a seminar, feel free to schedule a one-on-one, no-obligation meeting.
Event subjects we offer:
Social Security
Taxes
Estate Planning
Medicare

Register for an Event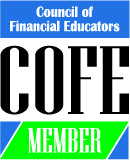 Council of Financial Educators (COFE) is a paid membership organization comprised of professionals of varying specialties. "COFE" is a 501(c)(3) non-profit organization whose focus is to provide financial education to individuals, businesses, and organizations through member professionals. The "COFE" logo and/or trademarks are property of their respective owners and no endorsement of Brandon Domenick or Capital A Wealth Management is stated or implied.
Get started in 4 easy steps:

Using the Alpha Plan, we'll examine your current financial situation and determine your retirement needs.

Receive a custom strategy to help you reach your unique retirement.

We'll regularly review your strategy to help ensure it's keeping you on track.